The Obama administration, never to ever reach the LOW of disgusting behaviour has
characterized the dead, sodomized Ambassador a "bump" on the road.
Yes, I suppose that is one way for the President of the United States to characterize the lifeless body of his diplomat. A dead bump of a body on the road. Yup.
I guess clump could be used as well. Hmm-maybe not, that's usually reserved for unwanted babies ("fetuses").
In other news, the media hits just keep coming.
Stay classy Hiliary Clinton staff!
In an e-mail exchange,
a Clinton staffer tells a reporter to "f&ck off" AND "have a good life"
. Not that the two are mutually exclusive. One imagines it is possible to do one and not the other...
CAN I GET THAT ON A HALLMARK CARD?
Maybe that should be on Hilary's ChrismmukaKwanza cards?
PS: Guess what has disappeared from the
Official Obama Tchatchke Store?
HINT:
HINT 2: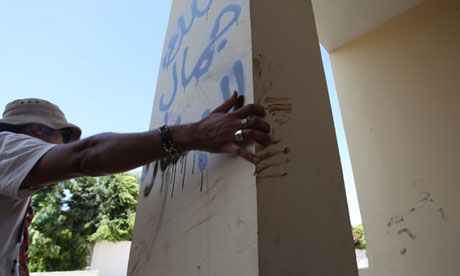 CORRECT!!
You win a brand new set of Official Obama Barf Bags, a free round of contraceptive pills, free gas a free house and free food for life!!