Lots of good Steyn to catch up on.
First of all, "
President Fundraiser and Secretary Windsurfer
" is EPIC.
LOVE IT.
It's so good I want to hug him. Err...Rather IT-right.
Whoops. Ha. Silly me.
SIMPLY A TYPO FOLKS, NOTHING TO SEE HERE....
The phrase. I should like to hug the phrase and shower it with my undying, Zionist affection.
Right.
WHERE WERE WE???
Hmm. I think we were talking about
people who still have balls, yes?
Yes! That's where we were. Right...
SAY CHEESE, JOHN JIZYAH KERRY!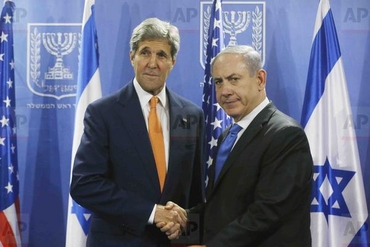 Bibi: This dumbass is lucky I am not going to kill him with my one bare hand, because I could and I'd love to.
(OMG-THIS!!!!!)
"Well,
President Fundraiser still hasn't said a word, even though, to coin a phrase, if he had a son, he'd look like Martin Wani.
But lots of other people have
spoken up
:
Prime Minister Renzi mentioned Ibrahim's case in his speech to inaugurate Italy's six-month European Union presidency earlier this month.
"If there is no European reaction we cannot feel worthy to call ourselves 'Europe'," Renzi said.
"Which comes over as a bit Euro-pompous on this side of the Atlantic, but i
t's better than two months of chirping crickets waiting for President Nothing to say something in between golf and fundraisers
. And the Prime Minister is not wrong. Given what is happening to Christians across the Muslim world, from Nigeria to Sudan to Iraq to Pakistan, when an obviously outrageous case comes up, it's incumbent upon free nations to raise hell about it."
AUDIO HERE FROM HUGH HEWITT SHOW.
Which contains this gem. I mean: FOR REAL, MARK STEYN!?!?!??!?!
(FOR REAL, SAYS ADORING STEYNFRAU!!!!)
"John Kerry is the physical presence of American absence."
OK.
*thunk*
*Passes out from Smartness Attack.*
PASS THE INFIDEL SMELLING SALTS PLEASE AND THANK YOU
No further comment necessary!